Founded on the belief that everyone should have a chance to achieve mastery over their own life, MindWealth is a career, wealth and spiritual mastery platform designed to help you live a more conscious and connected life.
We unite three areas of mastery: discovery and acquisition of career purpose, growing and protecting your financial wealth, and evolving your spiritual health. The MindWealth Community is a collection of individuals – unique, remarkable, and enlightened. We've shared and practiced our techniques with lawyers, finance professors, medical practitioners, CFO's, home-makers, and a few CEO's.
Tired of hearing the get-rich quick and easy money schemes, we won't give you answers to life's problems, but we will give you the tools that you can use to forge your own path to evolution. We have achieved this mastery ourselves, and we don't see why you shouldn't as well.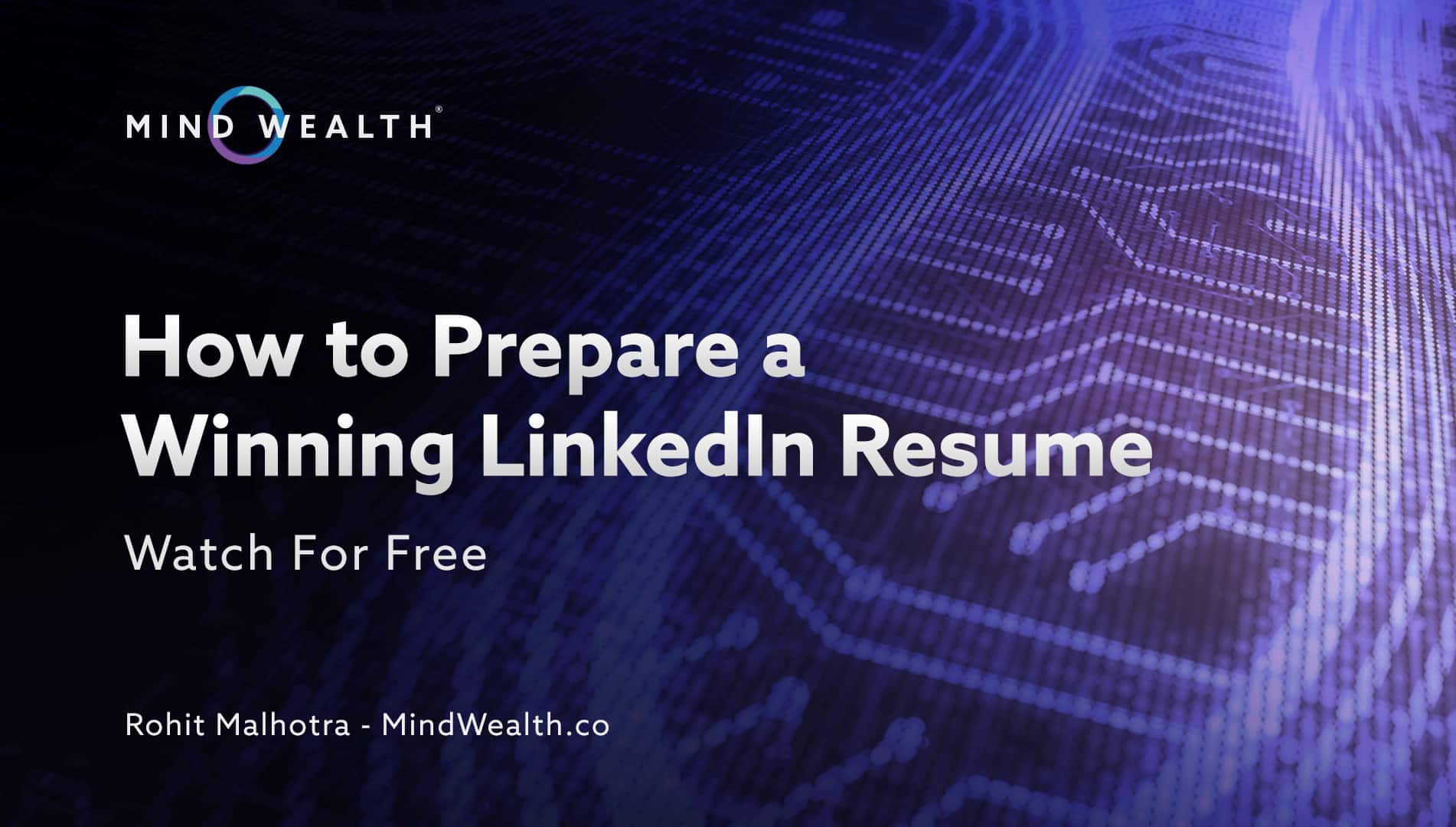 How to Prepare a Winning
LinkedIn Resume
Learn the techniques to control your narrative. Shape your online presence. Impress your potential employer. Take the next step in your job search and LinkedIn Resume journey.
Maximize your Potential Calculate Your LifeTimeValueAdd™
Annual Income

USD $

Years Ahead
Your Current Performance

Your Desire

Your Commitment
Your Life Time Value Add, or LTVA, is a model which helps you estimate the incremental 'value-added' if you maximize your career or life potential. It is based on your own understanding of your current abilities and your full potential. It considers key factors including your current (or expected) annual income, productive years ahead in your career or life, and motivational factors. In its essence, the model comprises 3 elements and assumes a 10% impact on your annual income per incremental movement on the slider for each element.
Your Current Performance – This is an evaluation of how well you think you are currently performing or your current readiness. It is a self-assessment of where you are in your own journey. On a scale of 1 to 10, try to accurately assess where you stand and how you can better yourself. Assume 1 to be "completely inefficient" and 10 to be "completely efficient".
Your Desire – This is a measure of how passionately you want to grow. How strongly do you feel about taking things to the next level in your life or career?
Your Commitment – This is your pledge to self-improvement. How committed are you to undertaking and completing a MindWealth Program? Will you complete self-study exercises and assessments that will enable you to enhance life or career opportunities?
By using the MindWealth LTVA calculator, you can estimate the value of joining a MindWealth program. The calculator makes you pause and reflect on where you are and most importantly the life or career growth you aspire to.
DISCLAIMER: MindWealth cannot guarantee any specified financial improvement or increase in income based on LTVA calculation and the subsequent completion of any MindWealth program. Increases in your income and career or life growth are dependent on numerous factors which we cannot control. However, we are eager and committed to helping you elevate your story.
Explore Our Programs
Watch a selection of highlights from our finest lessons chosen from our existing and upcoming programs. Watch our free curated content on MWav.
MindWealth Coaching
We are born from a wealth of knowledge, expertise, and hands-on experience. We use this to provide high-quality 1-1 coaching focusing on career, wealth and spiritual mastery. It is time to evolve.
"Watch a MindWealth Coaching client describe how she locked in a 3 Million Dollar LifeTimeValue"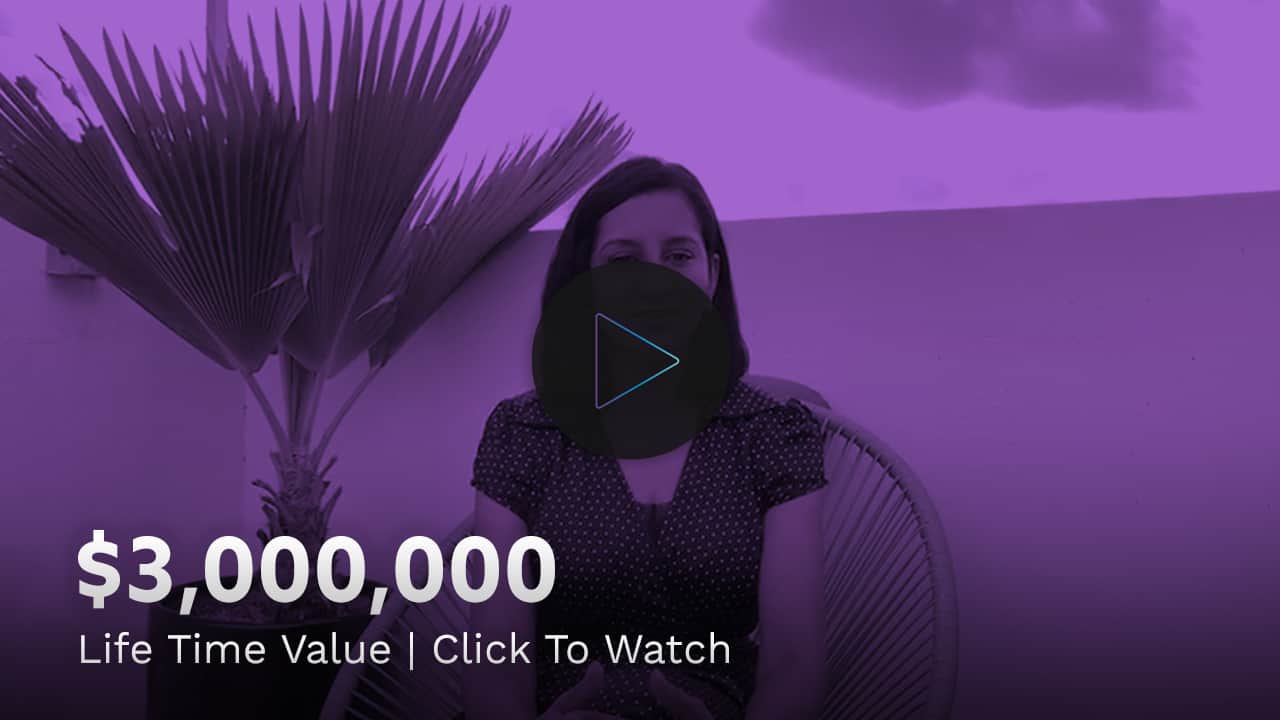 Mindwealth Testimonials
Rohit has helped me out a lot, I went through multiple rounds of coaching and intensive training

and

secured the job I wanted. I figured out that MindWealth helped me lock in an additional LifeTimeValue add of $3 Million.

Two big thumbs up for MindWealth and Rohit.

Senior Manager, Global Networking Platform, Singapore
Anita Rao Kapur
Having worked in technology, banking and having set up and then sold a FinTech business, I am no stranger to stress and politics in the often-murky world of high finance and startups. Conversations with Rohit usually go beyond coaching and financial brainstorming and move into the realm of mind balance and emotional evolution. It is here that anyone aspiring to be coached by Rohit will find not just a global business leader but also a spiritual prophet…the more time you spend with him, the more relevant he becomes to your life as a coach, as a friend and as someone in your corner.
Partner, OTS Capital Management, Hong Kong
G. Richard Warfield IV
As a leader running a large business, I benefited from working with Rohit to co-create plans to better achieve organizational goals. A transformational coach and an inspiring leader, Rohit helps you find answers within yourself and energize your career, improving your organizational efficiency and work life balance. I trust Rohit completely.
Managing Director and Head Global Products Distribution Asia Pacific (Multinational Bank) Singapore
Lavanya Chari
Rohit is an analytical and compassionate thinker. He not only knows what may be best for any given person but he is capable of delivering his insights in a manner that allows for these insights to be understood and implemented. Success in any walk of life is something that needs to be nurtured and with the help of a personal coach of Rohit's caliber, it is all the more attainable.
Financial Services Executive, Hong Kong
Bogdan Onyschenko
Rohit has always inspired me...he is a super-achiever. I value his judgement in issues related to career advancement and setting priorities in life. He is insightful and helps set specific strategies in managing the subtleties of work and personal dilemmas. I recommend Rohit to anyone who is looking to discover more about themselves, and take their careers and business ideas to the next level.
Former rates trader in Asia and Europe, current researcher in Social Psychology, London, UK
Kyoo Kim
There are not many people in business globally with Rohit's level of understanding of people, organizational tactics, or the material and spiritual outlooks inherent in different cultural contexts. My banking job is complex and requires an intense level of concentration and commitment as I strike a balance between risks and return. I frequently find myself in stressful situations in which I need to make challenging decisions. Rohit's coaching helps me to focus my mind and achieve a clear, calm state so I can be productive and make fast, balanced decisions in this complex environment. I respect Rohit as a great coach. Thanks to him, I got more peace of mind and insight into what I wanted out of my career.
General Manager, Banco Santander S.A. Shanghai Branch, China
David (Jianwei) Liu
When I engaged with Rohit formally, I was unsure that someone at his high level of achievement could empathize enough to help me develop my career. However, his compassionate approach and understanding of human psychology led to many conversations on how I could progress, in my work and in my life. I felt that Rohit wanted me to achieve my objectives—his support helped me to focus and gave me a much-needed boost. Even after our formal sessions had ended, Rohit called me to check in. His global work experience and his understanding of business, finance and top-management-thinking are bonuses. I recommend Rohit strongly to anyone looking for a professional life coach with right mix of experience and EQ.
Director, Deutsche Bank, Hong Kong
Manish Lala
Rohit is easy to trust and confide in. He is also a really cool guy who understands different cultures: the west and the east. Our conversations gave me a better understanding of myself as well as specific ideas on how I could progress and grow while balancing my life and career. I recently left my job at an investment bank and moved into a different area and role. My new job challenges me more and is in tune with the spirit of my conversations with Rohit. I am much happier as a result.
Head of China for Special Situations, MBK Partners, Beijing, China
Jason Liu
Rohit combines genuine empathy with an ability to connect with people. He understands people's motivations and how best to navigate them. His experience at the top rung of corporate life and his global experience were particularly valuable. After a conversation with Rohit I always felt energized and more confident. If you're looking to accelerate your career, Rohit is a great mentor.
Managing Director, Global Investment Bank, London, UK
Michael Brinton
Rohit has provided me with guidance and coaching during several difficult situations in my professional life. He has been a good sounding board, evaluating options and discussing alternatives. He has helped me to realize my full potential, and through his unwavering focus and commitment, he has been a source of true inspiration. I recommend him highly.
Managing Director, Standard Chartered Bank, Singapore
Neha Bakshi
Managing risk and dealing with stressful situations are a part of my daily schedule. These responsibilities have been constant in my work life in Hong Kong, in Singapore and now in India. I am a member of the founding team of one of India's most promising new age financial services companies, and there are times when the complexities seem overwhelming. Thanks to technology, however, my chats with Rohit bring balance and give me a lateral perspective of the situation. Rohit's analytical and intuitive abilities separate him from the rest. Over the years I have known him, even when there is no crisis or stress at hand, my conversations with Rohit have invariably aided my career development.
CEO, SME Loans, Incred India, Mumbai, India
Saurabh Jhalaria
MindWealth App
Coming Soon
Take us wherever you go. An interview, a pitch, your lunch break, and morning meditation. We'll be right by your side when you need us. Guiding, teaching, and evolving along the way.